Hero Jr. is one of the best live bands today...touring relentlessly, headlining and supporting the likes of Tom Petty, Beck, Offspring and Alice Cooper to name a few. We had a chance to talk to Evan Haughey, guitarist and lead singer of Hero Jr. about life on the road, influences and inspiration. Please enjoy this edition of 9.5 Questions.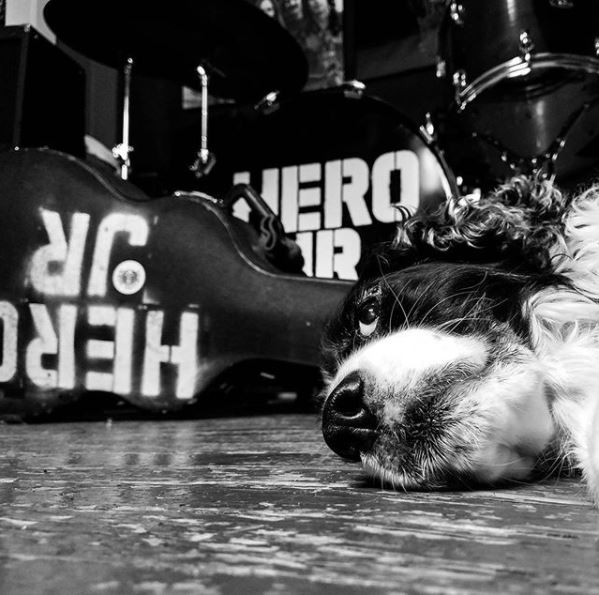 1 - You're abducted by Fembots from outerspace....they want to violate you but with one catch...loud 'Earth rock' must be playing in the background; so they allow you to bring 3 albums with you that they will play on repeat during the deed. Which albums to you take?
-Led Zeppelin 1
-Grateful Dead "Workingman's Dead"
-Soundgarden "Badmotorfinger"
If the Fembots last a long time and want 1 more album….….
Black Sabbath - Paranoid
2 - What inspires your art?
Being alive. Life observation.Emotions. The freedom to say whatever you want, however you want to say it, whenever you want to say it always inspires. Being in a band that owns and makes our own music is inspiring.
3 - I know the origin of the name 'Hero Jr' via the OneByOne Podcast. If Hero Jr wasn't the band name what would you want it to be?
"Full On Evans Mom"
4 - Indy is a stones throw from Michigan, but is there anything you miss about the Great Lakes State?
I miss Michigan a lot but fortunately my family is still there so I visit quite a bit. The water is what I miss the most. I practically grew up in lake Michigan and spend my childhood bouncing around the many beaches on Michigan's Southwest Coast. Its hard to explain to people just how big Lake Michigan is until you see it in person. Fresh water ocean is really what it looks like! I feel very connected to the lake in a special way and will always feel at home on the beach.
5 - Who are some of your favorite artists right now? Any medium...music, graffiti, comedy, etc.
Dean Delray, Louis CK, Bill Burr, Joe Rogan, Joey Diaz... The Podcast and comedy movement is awesome right now. So much talent. We don't listen to a lot of tunes in the van. Podcasts and comedy is kind of the "new rock" because it feels both honest and innovative. Ralph Steadman's art is and has always been an amazing example of expression through art.
6 - What's your go to favorite meal/snack on the road?
Hummus and chips. Good Coffee.
7 - What is the statement being made by your second album title, 'Mixed Race Indiana Marriage'?
We really don't try to "make statements" in our music. Album titles and song titles always come from an "in the moment" situation. MRIM came about from the gas station we always fuel up at before leaving Indy to go on the road. It's a hodgepodge of unique characters and there are always magical people watching moments.
MRIM came from a scene we were observing right in front of us at this gas station. A highly intoxicated interracial couple pulled up on a scooter right next to us....a domestic dispute ensued and all hell broke loose. It was like a train wreck you couldn't stop watching and someone in the van the muttered... "Now that's a Mixed Race Indiana Marriage" and the rest was history. Same situation with out last release "Sometimes You Just Gotta Give It The Business"
8 - Favorite childhood toy?
Tennis racket used as a guitar
9 - Hero Jr is starting to get national recognition, what band are listening to right not that should get more recognition?
Red Racer from London, UK
9.5 - The best concert I witnessed live was ____________.
Im going to answer this in 2 parts.
Best Concert - AC/DC Detroit MI Ford Field 9-8-15
Most Memorable Concert - Soundgarden Indianapolis IN 5-10-17
Thanks for reading....this interview was complete with a secret swag giveaway which we have now fulfilled. Check back for more contests related to upcoming interviews.